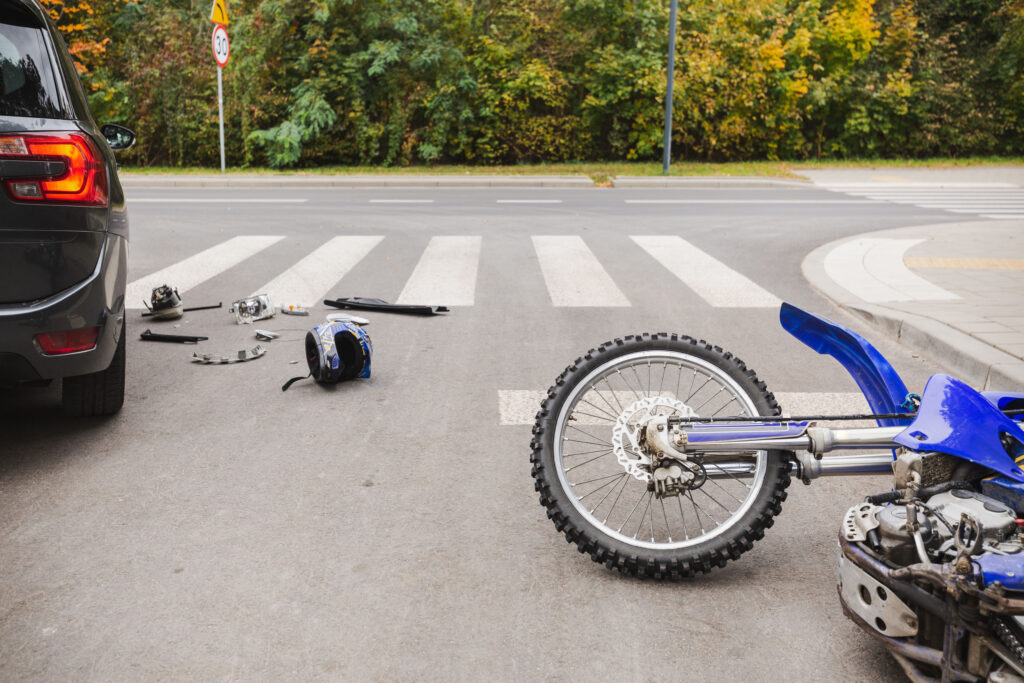 Whether you're zooming through the streets of Las Vegas, tackling the open roads of Henderson and Summerlin, or conquering motocross parks in Boulder City, Nevada is an outstanding place for motorcycle enthusiasts. With a wide variety of streets, trails, and parks, there's something for riders or all types and skill levels. Unfortunately, accidents do sometimes happen because of the negligence or recklessness of another party. In those cases, you need a seasoned Las Vegas motorcycle accident lawyer, like Scott Guido, by your side.
According to the Nevada Department of Transportation (NDOT), from 2014 to 2018, motorcycle accident fatalities accounted for nearly 20% of all automotive fatalities in Nevada. In 2019, the agency reported 56 motorcycle crash fatalities. While not all Nevada motorcycle accidents end in wrongful death, many result in catastrophic injuries that can permanently alter someone's life. Guido Injury Law can help make sure that you receive the compensation you deserve in the event of an accident.
What Are the Common Causes of Nevada Motorcycle Accidents?
Many motorists do not take the necessary precautions when sharing the road with motorcycle riders. Many times, drivers simply do not know how to share the road with a motorcycle rider or just fail to see the motorcycle. This can result in severe accidents that are easily avoidable. Mr. Guido and his staff are experienced and capable of handling all kinds of accidents involving motorcycles including the following:
Rear-end collisions: Some motorists do not give bikers adequate space. This can result in a crash if the motorcycle rider has to stop suddenly due to abrupt changes in traffic conditions and other obstacles.
Unsafe lane changes: Drivers may not see motorcyclists in their mirrors due to blind spots or the relatively small space bikers take up. This can cause them to execute an unsafe lane change that puts the motorcyclist in danger.
Failure to yield: Motorists may be unaware or confused by right-of-way laws. This can cause them to cut off motorcycle riders.
Careless door opening: Parked drivers sometimes open their doors because they don't see any cars, but haven't looked closely enough for bikers. This can cause a motorcycle rider to crash into a door.
If you have been injured while riding your motorcycle because of the carelessness of another then you may be entitled to compensation. Mr. Guido can discuss the facts of your case and help guide you through the liability analysis of your claim.
What Are Common Motorcycle Accident Injuries?
Since motorcycle riders are relatively unprotected compared to other motorists, their accidents can often result in severe injuries. While a good helmet and riding leathers offer some protection, it's not nearly the same as being enclosed in a metal chassis, wearing a seat belt, and having an airbag. Over the years, Mr. Guido has represented many riders that have suffered from:
Broken bones
Deep cuts and lacerations
Internal organ damage
Traumatic brain injuries
Spinal damage
Neck injuries
Short-term and long-term paralysis
These types of injuries can change your life for weeks, months, or possibly forever. This is why it's so important to have an experienced Las Vegas motorcycle accident lawyer looking out for your best interests. Insurance companies may try to take advantage of your trauma by offering a low settlement. Mr. Guido can fight for you to make sure that you're properly compensated for your medical bills, pain, suffering, wage loss, and more.
Contact a Las Vegas Motorcycle Accident Lawyer
Getting into a motorcycle accident can be a harrowing ordeal. In addition to recovering from physical injuries and mental trauma, you'll have to deal with the party that caused the accident and the insurance companies involved. Let Guido Injury Law Firm take care of your legal matters so that you can focus on rest and recovery. We have the experience and knowledge to help make sure that you received maximum compensation for your injuries.
You can reach Guido Injury Law Firm 24 hours a day, 7 days a week at 702-357-HURT. If you prefer you can submit your information using this secure case form. Remember, consultations are free and you will not be charged any fee unless our attorneys win your case. For top-notch legal representation that's also risk-free, Guido Injury Law Firm is a great choice.